Welcome to KSE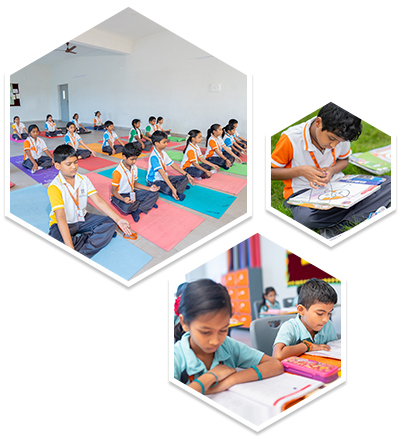 Education is the only power to bring the change, we aspire for ……..
Founded by Shri Kapa Ravindra Nath, KAKATIYA was an initiative taken by us long time ago to make our vision of "Education for All" come true. After 32 years of journey, KAKATIYA-APOLLO Institutions, to meet the newly evolving changes around and a vision to set new benchmarks of quality education through innovative teaching methods with an Advanced Infrastructure to the holistic development of the children, KAKATIYA EM High School is in existence.
KSE has been fulfilling all the technological needs of the day-to-day empowered with time. The Infrastructure of the school is onpar with the World-class schools and to maintain futuristic perspective and our pledge to adaption of 3"T"s
Teachers,
Technology
Teaching methodology
VISION and MISSION statements
OUR VISION
To bring out the Child's full human potential and make them feel confident in the rapidly changing society and empower them to be the good responsible citizens of the future.
OUR MISSION
KSE exists to advance the existing academic practises and make the child's learning joyful to become successful, responsible and ethical citizens.
Chairman's Message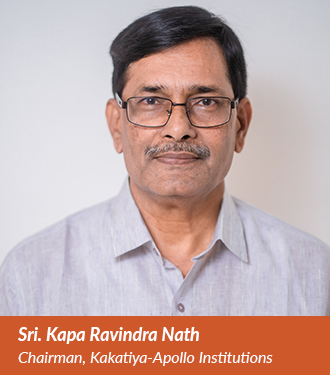 "Education is all the drawing out of the best in child and man body, mind and spirit" – Mahatma Gandhi.
Children come to us from varied cultural, social, racial and religious backgrounds. Within school they learn to live together as one big family, regardless of their roots and create newer and stronger bonds with each other that will last them a life time. We strive to provide experiential learning. However, holistic education does not end at learning.
We make sure that our students are rooted in the values of Indian culture and, yet maintain a global outlook. It is our promise to make them-not only successful human beings-but also good human beings.
I also believe that "Education" must help us manifest the infinite knowledge within. The work of a teacher is to unveil that which already existing by facilitating and helping the student to concentrate and identify the knowledge and the power. A continuous struggle, a constant fight and an unremitting grappling will ultimately result in the victory of every student. The student who sets out with such a spirit of perseverance will surely find success.
May your journey with KAKATIYA EM High School be wonderful, marvellous, thought-provoking, experiential, leading to a satisfying and successful journey.
Director's Message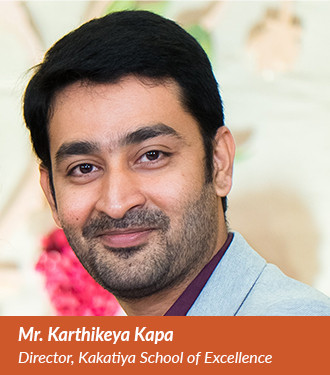 The advent of modern technology is rapidly transforming the world, so also the education system has undergone a sea change. We have to adopt the modern teaching techniques and communicating skills to make the present-day children adapt to the modern times. The present-day children are quite different, they are born with high IQ, their absorption capacity is amazing. If we want different outcome to match the present-day requirement, we need to do things differently and we need to do different things. Keeping all these things in view at KAKATIYA EM High School under the guidance of Kakatiya Educational Society, a team consisting of eminent Educationalists monitors the innovations in the field of Education at the international level and they immediately bring them with suitable changes to match the Indian conditions.
Further, the education is not just about academics alone but also about sports, crafts, dance and many other co-curricular activities. At KAKATIYA EM High School, the school is housed in a spacious building offering equivalent to world class learning experience with state of the art indoor and outdoor play things, digital labs, language labs, it is the only place where learning is an enjoyment to the child. While enjoying the learning, the child becomes a world class citizen.
From the Principal's Desk
Welcome to KAKATIYA EM High School. It is my pleasure to introduce you to KSE through our school website. The purpose of this site is to give you a snap shot of the many exciting learning experiences happening daily at our school. The website is evolving and will be updated regularly. In this endeavour, our students enjoy the freedom to experiment, strive for personal best, learn to overcome obstacles and pray, laugh and grow.
The KSE Educational programme preserves a child's curiosity, self-esteem and creativity in a well-organised and caring environment. The whole concept of primary-education revolves around five major segments of learning that is knowledge, concept, skill, attitude and action. In the process of learning, children gain positive attitude which is enough to make them global citizens.
The minds of children contrary to our beliefs are open. It becomes the responsibility of the school to ensure that all children put under its care are taught the importance of inculcating right ethics. These are urgent in order to develop as an individual, both mentally and emotionally. With us, the students learn to be upright and honest, they understand respect, they are taught to differentiate right from wrong and have the courage to stand up for what is correct.
At the end, I would like to thank all the parents, who have reposed faith in our Institution and the ideals it stands for. Let me assure you that your loved one is in safe hands. Our staff understands the ethos of the school and help in guiding and encouraging the children.
We solicit your whole-hearted support and co-operation in all our steps, which we are going to take in the interest of our student/your Ward.
Philosophy - Beyond the Books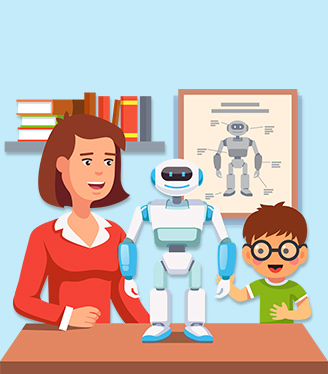 In the true spirit of a motto, higher, stronger, brighter, we strive to elevate the learning experiences of our students to a new level of understanding, they by strengthening the knowledge ensuring a firm grasp of the fundamentals and creating a brighter feature. One becomes knowledgeable, skilled, confident and learns to develop a harmonious relationship with others. Scholar, athlete, actor, poet, painter, musician and dedicated trainer, all find a place in this community, having opportunity to develop their individual abilities and discover the new talents.
At KSE, we seek to engender a love for learning, going far beyond simple book-learning to foster a spirit of creativity, innovation and achievement. Particular attention is paid to the inculcation of key values like national pride, national integration and international brotherhood.
KSE, is a collective effort of a few visionaries, to offer better education facility. Quality education goes way beyond theoretical knowledge, with emphasis on value and skills that help young minds evolve into better individuals. Our vision is to take the school to the zenith and reach the crescendo of success.
School with a difference:
A conscientious effort is made to inculcate in the child love and care for trees, animals, society.Caring the nature by showing love and affection on the pet animals is a sacred feature in our School. Children will learn a kind of caring at the early stage to show sympathy, humbleness, which leads his behaviour into a peace and harmony.
Children are also engaged to do Organic farming in the school campus by growing plants themselves and enjoy the fruits with their sweat of hard work.
A spectrum of activities is offered to cater to the palate of the young minds that include Art classes, Music and Yoga classes.