Academic Excellence at KSE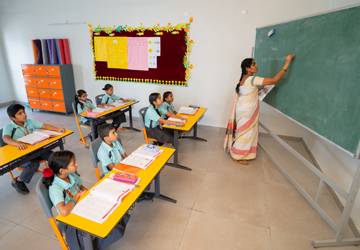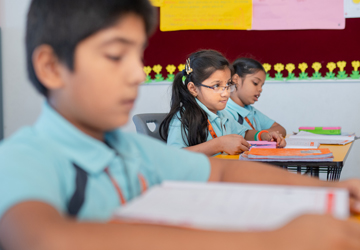 Academic excellence is the demonstrated ability to perform, achieve, and/or excel in scholastic activities. Academic excellence has been identified with achieving high grades and superior performance. But academic excellence is more than just making good grades. It is the maximum development which depends upon intellectual capacities and skills in serving the humanity.
Academic success is at the centre of everything we do at KSE. Taking a student-centred approach, Student and Academic Support is just one of several units within the division of Student and Academic Life focused on academic and personal success. We provide support and resources to not only enhance academic achievement, but also help address the other areas of life. Success is not simply measured by graduation, but is defined by how well the students have grown in their intellectual, emotional, social and ethical development during their time at K S E. We strive to have our students become career oriented and foster the ethos of being life-long learners and critical thinkers.
Our Curriculum
Our curriculum has been especially designed to make it inclusive; where physical, emotional and mental needs are equally significant. Unlike the traditional method of teaching, where the focus is on the trainer, our approach is learner-centric. We maintain a democratic and participative culture with mutual respect and appreciation for individual values. There is a constant endeavour at our end to keep ourselves at par with the ever-changing environment. Various orientation workshops will be held at regular intervals for teachers to absorb the vision, align with the values and take ownership for our mission and the curriculum. The school, next to the family, takes special responsibility in equipping children with the right attitude and skills that would help them become winners. Modern infrastructure, continuous realignment of curriculum, pedagogy and committed and skilled teachers are the ingredients of K S E.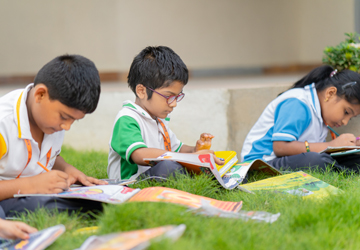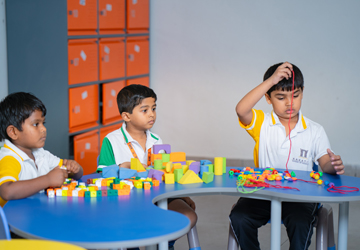 Holistic Education delivered in Tech-Smart Classrooms A core belief is that no single method of instruction is all comprehensive. Hence, we have come up with the Melting Pot Approach which uses both - traditional as well as progressive methods of instruction to develop a well-rounded curriculum. Project based learning provides a platform to the child to showcase his/her latent talents and inventiveness. Projects in 'Maths' and 'Science' ensure long term learning and clarification of concepts. It also gives an opportunity to the passive learners and makes teaching fun. The teacher is today a "knowledge facilitator" rather than a "knowledge provider". This is possible with the help of videos & other technological means.
Student centred Learning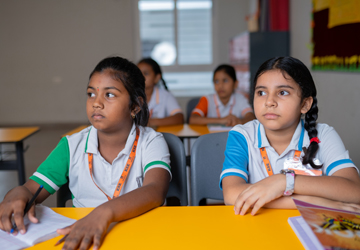 The School programmes teach life skills through an extremely innovative and entertaining medium of movies and strengthened by Student centred learning using Multiple Intelligence Theory. Life skills training is an efficacious tool for empowering the youth to act responsibly, take initiative and take control of their lives. Life skills include psychosocial competencies and inter-personal skills that help children make decisions, solve problems, think deeply, communicate effectively, build healthy relationships, empathy with others and cope with managing their lives in a healthy and productive manner through methods like class discussions, storytelling, brainstorming, role plays, audio-visual activities etc.
By adopting the above, our motto to train our students in the following areas will be effectively fulfilled:

Robotics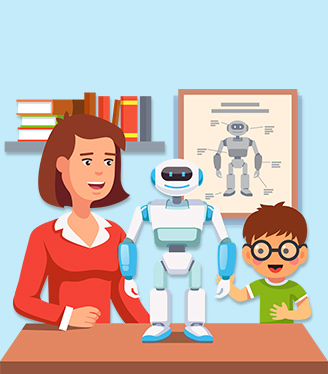 ROBOTICS – A MAJOR EDUCATIONAL ENDEAVOUR IN KSE
KSE has a unique educational technology by way of teaching ROBOTICS from the inception stage of learning to help the students in improving their STEM (Science, Technology, Engineering and Math) skills and explore diverse learning paths like programming and creative problem-solving techniques.
Technology is changing the way people do things in every part of the world, and the sector continues to expand. In fact, everything we see today in robotics can trace its origins to research, and an academic paradigm that brought on board policymakers, scientists, and governments.
Here are seven areas in which learning robotics at school can benefit students: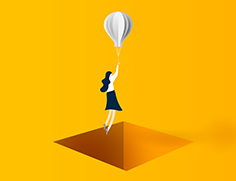 1. Creative thinking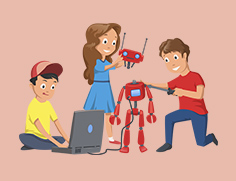 2. Engagement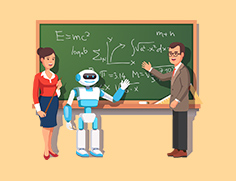 3. Preparedness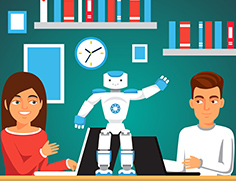 4. Programming skills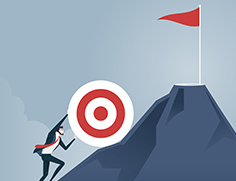 5. Perseverance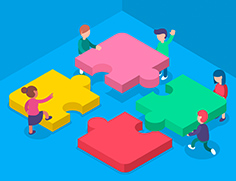 6. Team work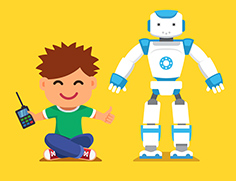 7. Fun